Beautiful skin is the foundation of looking your best. Treatments designed to enhance the youthful, smooth texture of skin are nothing new, but there are advances in technology that more effectively smooth, tone and plump the skin with little downtime.

Throughout October, our aesthetics team led by Dr. Kenneth Neufeld, is offering a great combination promotion to help you turn back the clock just in time for the holidays. Read on to learn about our offerings this month and how you can transition your skincare routine for the cooler months ahead.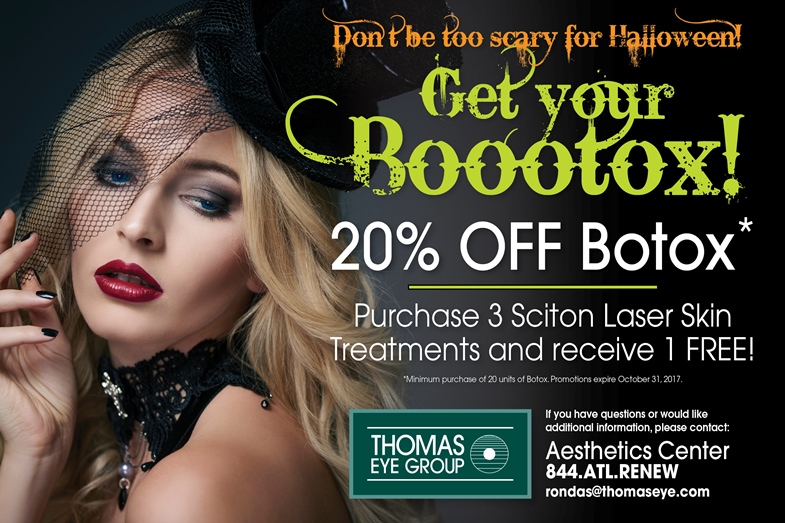 Save Big on Treatments
This month only, we're offering 20 percent off Botox and a 'buy one get one free' on Sciton Laser Treatments.
Laser treatments include:
· Forever Young BBL™
· MicroLaserPeel™
· NanoLaserPeel™
· BroadBand Light™
· Laser Hair Removal
Transition Your Skincare Routine
Along with the nip in the air comes a shift in the way your skin responds to seasonal changes. Help your skin manage the transition by following these simple tips.
Moisturize…the right way
Choose the right moisturizer based on your skin type and the other concerns you have (e.g., aging, acne, etc.). Our Revision Skincare line offers products for different areas and targets dry, aging skin. Try some of our favorites such as Nectifirm, Brighting Face wash, DEJ eye cream, Teamine Eye Complex, Intellishade Matte Sunscreen 45, and Firming Night Cream.
Exfoliate Regularly
Getting rid of dry, flaky skin can restore that bright glow you enjoyed during the warmer months, so try an exfoliation product. Most people should exfoliate between one and three times per week.
Don't put your sunscreen away
The need for sun protection may be more obvious during the summer when we can feel the sun's heat every day, but the ultraviolet rays can do just as much damage during the fall, so continue to include sunscreen as part of your daily routine.
Take advantage of the perfect season for laser treatments
Before and after any laser treatment, it's important to avoid sun exposure because it increases the risk of side effects. To make this precaution easier and more convenient, most patients prefer to have cosmetic laser treatments performed during the fall and/or winter.
These tips can help you update your skin care routine, but everyone's skin is unique. Schedule a consultation with us at our Aesthetics team (844-ATL-RENEW) to learn more about how we can help you look and feel your best this fall!