At Thomas Eye Group, our aesthetics team wants to make your complexion the best it can be, so we're extending our June skin event throughout July: Purchase three laser skin treatments and receive 20 units of Botox free!
Why Laser?
As we age, topical skin treatments lose their power in rejuvenating our skin. For more dramatic results in treating fine lines and wrinkles and restoring an even tone, we have many laser treatments that can offer complete rejuvenation and help you take years off your face.
Read on to learn about our favorites and their benefits: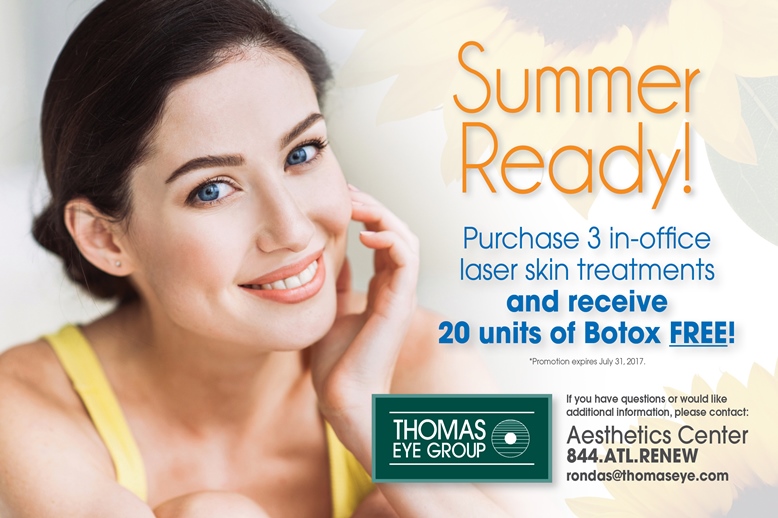 Soften Wrinkles
Wrinkles and fine lines are unavoidable as we age. Skin loses its natural ability to produce collagen over time robbing us of smooth, wrinkle-free skin. Laser treatments work to restore skin's ability to heal itself and fill in these fine lines through natural processes. By applying laser energy beneath the surface of the skin, we are able to stimulate collagen and blood vessels to constrict and work again as they once did. Try MicroLaserPeel™, NanoLaserPeel™, or BroadBand Light™.
Get Glowing, Even Tone
We love the sun just as much as you do, but the price of a summer tan is usually sunspots, discoloration and pigmentation over time. This can happen with or without the sun as our skin ages and loses its ability to keep its even tone on its own.
But there is good news. We can help you erase this discoloration easily and naturally, giving you a more even skin tone for a fresh, youthful look. Try our Forever Young BBL™.
Go Smooth, Hair Free
Throughout the summer months, the task of shaving, tweezing and waxing to remove unwanted hair can become more tedious than ever. Laser hair removal is one of the most commonly practiced cosmetic procedures, removing hair from the face, legs, arms, bikini line and other areas. Lasers can selectively target dark, coarse hairs while leaving the surrounding skin undamaged. Try our Sciton Hair Removal Laser.
If you're looking to rejuvenate your complexion this summer, call 844.ATL.RENEW to request an appointment for a skin analysis so we can help you determine which laser is right for you.