Spring has sprung and our aesthetics team is celebrating by offering our patients a great deal on non-invasive skin treatments to prepare your skin for the warmer months ahead.

Climbing temps mean lighter clothing, time outdoors and a focus on beautiful skin. If you're not satisfied with how you look this season, we can help. We have treatments to plump and smooth your complexion to give you that warm weather glow. Throughout May, purchase a three-pack in-office Laser Skin Treatment or a three-pack Dermapen/ Micro Needling Treatment and receive 15 units of Botox FREE!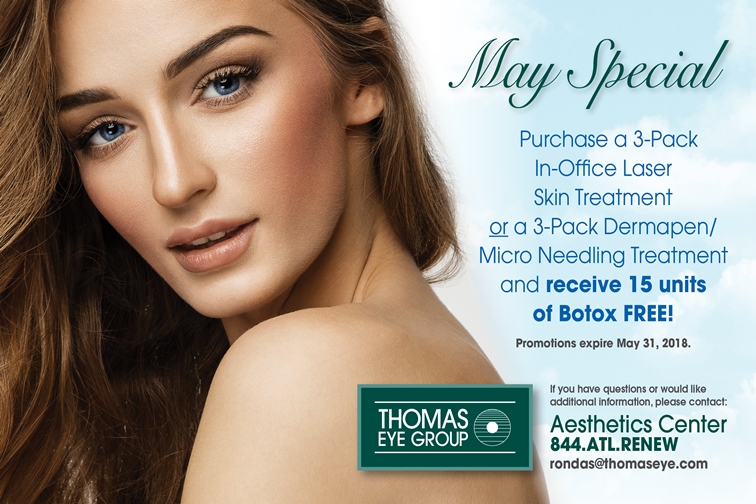 Press pause on aging
If you've dabbled with Botox and been very been happy with the results or seen positive changes from fantastic face creams, you're on your way to better skin. But Botox and creams can only take you so far. When the underlying structures start to slip, laser and Micro Needling treatments can shore up your scaffolding by stimulating your own collegen production to actually prevent the effects of aging.
Consultation is key
Although these treatments are non-invasive, it is crucial that they are performed by a highly qualified and trained aesthetician that can customize the tools for your skin type and any special needs. Our team is led by Kenneth R. Neufeld, M. D. who is a Board Certified ophthalmologist and oculoplastic surgeon with specialized training in cosmetic and functional procedures.
Benefits that last
After laser or Micro Needling treatments, you can expect:
· Minimal downtime
· Smoother, plumper skin
· Reduction of fine lines and wrinkles
· Reduction of scars, acne and blackheads
· Reduction of hyperpigmentation
· More youthful, glowing skin
Call to schedule an appointment at our Sandy Springs office today so we can help you spring into your most youthful glow!