Spring and summer fun is just around the corner. Are you and your skin ready? Prep your complexion now so you're at your best as you enjoy weekend parties, summer vacations and other warm-weather activities.
This month only, our aesthetics group is offering two amazing specials that include free Botox and a free Nano Skin Peel. Read on to see how you can take advantage of these "giveaways" and benefit from the latest and greatest in anti-aging skincare.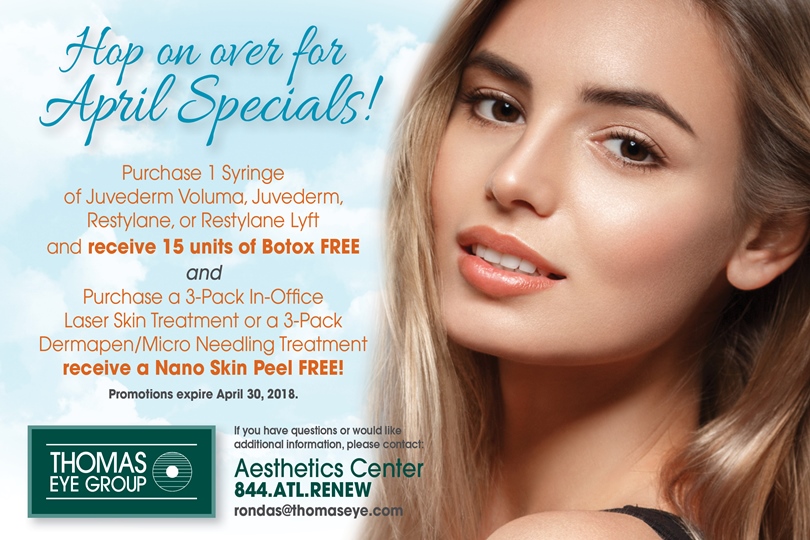 Throughout April, we're offering two specials: Purchase one syringe of Restylane, Juvderm, or Voluma and receive 15 units of Botox free! Also, purchase a three-pack of in-office Laser Skin Treatments or a three-pack of Dermapen/Micro Needling Treatments and receive a Nano Skin Peel free!
Our practice has the skill and technology to rejuvenate and restore your skin to its youthful best using Sciton lasers. Unlike chemicals or abrasive materials that remove only the top layer of the skin, the Nano Laser Peel can do much more. It uses light energy to instantly remove the top layers at a depth that also accelerates the skin's own renewal process by activating messenger proteins. This translates to precision to work at just the right depth, creating beautifully smooth, luminous skin in one gentle procedure.
Once soft, silky skin is revealed, Botox is the perfect compliment. It's the best non-surgical solution to lines, wrinkles and even a droopy brow that can make you look tired and unhappy. Botox is appropriate for many facial areas including forehead wrinkles, frown lines, crow's feet, under-eye lines and marionette lines. The smoothed effect usually kicks in after three to 10 days and last between three to six months.

If you're ready to erase fine lines and wrinkles and get back to your youthful glow schedule a consultation with Dr. Neufeld in our Sandy Springs office this month. Dr. Neufeld, a board certified ophthalmologist and oculoplastic surgeon, leads our aesthetics group and is specially training in cosmetic procedures ensuring the highest quality of care. Happy Spring from all of us at Thomas Eye Group!