March is here bringing with it the start of spring, St. Patrick's Day, warmer weather, and March Madness! Our aesthetics team is ready to celebrate with fresh skincare specials to help you revitalize your beauty after the cold winter months. If your skin is feeling dry, tight and dull, we have treatments to hydrate, smooth and plump your complexion.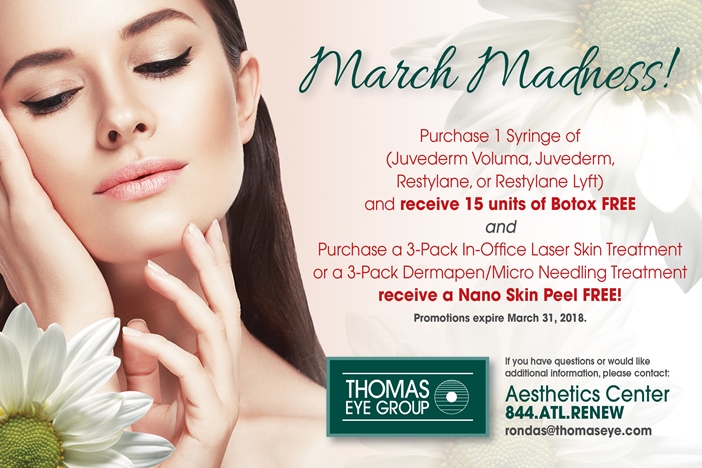 Since Spring is a time of renewal, why not show your skin some much deserved TLC and take advantage of our promotional pricing while it lasts. Throughout the month, we're offering 15 units of Botox free with the purchase of one syringe of Restylane, Juvderm or Voluma. In addition, you'll receive a free Nano Skin Peel with the purchase a three-pack of in-office Laser Skin treatments or a three-pack of Micro-needling treatments.
Most of our patients are familiar with the many benefits of our cosmetic injectibles and Laser treatments, but we are also now offering micro-needling, a new minimally invasive skin rejuvenation procedure to help your skin renew and repair without downtime. Read on to learn more and if this treatment is right for you.
What?
Micro-needling is a procedure involving a device with extremely fine needles that produces very tiny punctures in the skin. This triggers the body to fill these microscopically small punctures by producing new collagens and elastin, which are natural proteins that keep skin elastic, plump and youthful.
How?
Improvements in skin texture may be seen within a few weeks. The number of micro-needling sessions a person needs to see significant improvement depends on individual skin condition and needs. Three to five treatments with a period of four to six weeks between treatments are usually recommended.
Why?
The benefits of micro-needling include firming facial contours, improving skin texture and firmness, acne scarring and reducing wrinkles and pore size. It is cost-effective and can be used to improve skin on areas that may not be suitable for peeling or laser resurfacing such as around the eyes and mouth, hands and chest.
The discomfort and downtime of this treatment is minimal. A topical numbing cream is applied prior to treatment for the patient's comfort and any redness that occurs immediately after micro-needling usually subsides in 48 hours.
If you're ready to turn back time on your skin, contact our office today at 844-ATL-RENEW and welcome spring with a refreshed, more youthful complexion.