As you ring in a new year, don't let the cold weather get you down. Winter is the perfect time to start laser skin care treatments to prep your skin to look its most radiant for Spring. With less sun exposure, laser treatments are more effective and safe than ever. Our aesthetics team has a great package to ease you into 2018: Purchase three in office laser treatments and receive 20 units of Botox free!

Which laser is right for you?
At Thomas Eye Group, we use Sciton® laser technology – the gold standard of care – to give our patients ageless skin. We have a variety of lasers to choose from depending on your needs and desired outcomes. Read on to learn more about how you can transform your complexion in 2018.
Forever Young Broad Band Light Laser
Forever Young BBL™ (broadband light) treatment is designed to safely and effectively address skin conditions at their source and utilizes low-frequency photo-thermal energy to gently and safely heat the inner layers of the skin. When damaged skin cells absorb this photo-thermal energy, new collagen is generated to create healthy, youthful skin.

This treatment is right for you if you're looking to correct:
· Acne or acne-related scars
· Age or sun spots
· Scars
· Uneven skin pigmentation, tone or texture
· Moles or telangiectasia (spider veins)
· Broken capillaries or redness (erythema)
· Rosacea
· Fine lines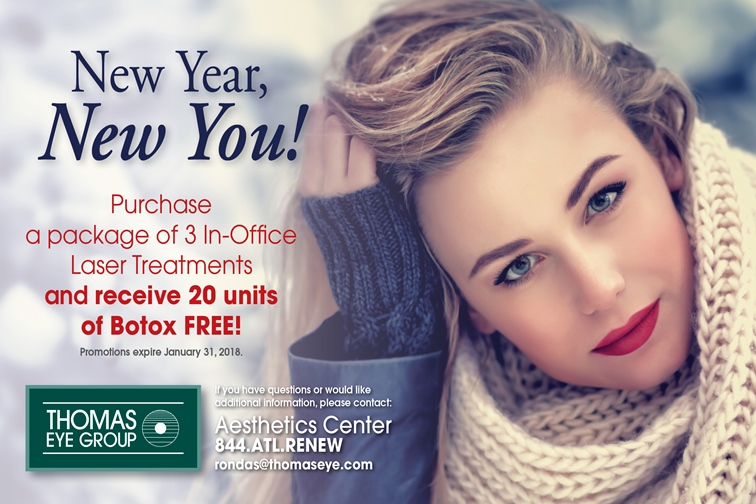 MicroLaserPeel™ Skin Resurfacing
The MicroLaserPeel reduces the appearance of skin conditions associated with aging, sun damage, keratosis, pigment irregularities, and scarring. The laser delivers light energy to target the upper layers of skin. Deeper treatments can improve the appearance of acne scars and the signs of aging. This treatment is right for you if you're looking to improve skin texture and tone, and have a clearer complexion and healthy glow.
NanoLaserPeel™
The NanoLaserPeel is one of the most advanced methods of treating patients who want to enjoy beautiful skin. The NanoLaserPeel uses light energy to instantly remove the top layers of the skin.This treatment is right for you if you're looking to create beautifully smooth, luminous skin with little downtime.
Laser Hair Removal
BBL™ laser hair removal delivers photothermal energy to hair follicles to impede future growth. BBL™ can treat multiple hair follicles at a time, minimizing treatment times. A series of treatments, spaced 4-8 weeks apart, is typically required for the best results. This laser is ideal for patients with active lifestyles as it safely treats most skin types, removing unwanted hair with virtually no downtime.
Contact us today to discuss treatment options and learn more about how you can achieve your best look this year. Our aesthetics group wishes you and yours a Happy New Year!