Ready or not, the holidays are here! This season, take time away from the season's chaos and give yourself (and maybe that special someone on your list) the gift of gorgeous skin. Our aesthetics team has carefully selected a just-for-you set of skin treatments to rejuvenate your look for the holidays and into the New Year.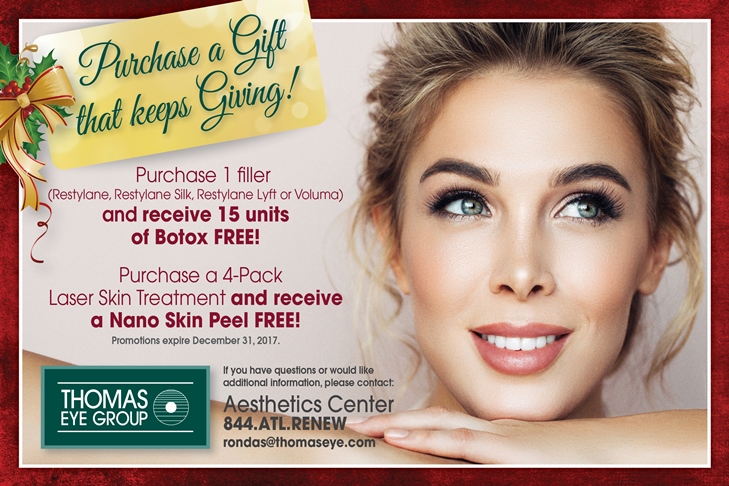 Throughout December, we're offering...
15 units of Botox FREE with the purchase of one filler (Restylane, Restylane Silk, Restylane Lyft, Juvederm or Voluma



One Nano Skin Peel

FREE

with the p

urchase of a 4-Pack Laser Skin Treatment
Cosmetic injectibles like Botox and fillers smooth, soften and plump the complexion, and Laser Skin Treatments are the perfect compliment to complete a youthful appearance. By now, most of our patients are familiar with cosmetic injectibles and their benefits, but we're often asked about our Laser services. Read on to learn more about the NanoLaserPeel and how it can transform your skin.

NanoLaserPeel


This fast, effective peel improves skin texture and decreases discoloration to reveal luminous skin. It sloughs off dull layers of the upper layer of skin giving a glow with little downtime. Removing the top layers of the skin will also accelerate the skin's renewal process for continued improvement in appearance over time.
How it Works
The NanoLaserPeel instantly removes the layers of the epidermis using light energy rather than chemicals or harsh abrasives. The laser offers precision to remove layers to the exact preferred depth, giving it the advantage over microdermabrasion and chemical peels that are often unable to reach the depth safely. In addition, the laser heat stimulates collagen production in the dermal layers and plumps the skin, reducing the appearance of fine lines and wrinkles over time. The heat also results in a tightening effect of the skin in the days after the treatment that will continue to improve for four to six months after the treatment.


What to Expect

For the first couple of days, the skin will feel tight and will gently peel. Typically by day three, skin will be incredibly smooth and luminous. Your makeup will go on smoother, dark spots will be lighter, and pores will appear smaller. Your complexion will have a fresh, healthy glow.

Schedule an appointment with Dr. Neufeld and his team today to learn more about the NanoLaserPeel. It can be complimented by our Forever Young BBL and other skin treatments on special this month to maximize you skin's luminosity. Let us help you look your best this season. Happy Holidays!