Thanksgiving is a time to step away from the daily rush of our routines to reflect and be grateful for the goodness in our lives. But if you're self-conscious about your appearance, that nagging feeling can hold you back from embracing life's bounty. If facial aging is holding you back, our aesthetics team, lead by Dr. Kenneth Neufeld, is here to help.
Join us this month as we celebrate the holiday with special savings: Purchase one syringe of Restylane, Juvederm or Voluma and receive 15 units of Botox FREE! Plus, we're offering 20 percent off a three-pack Laser Skin Treatment.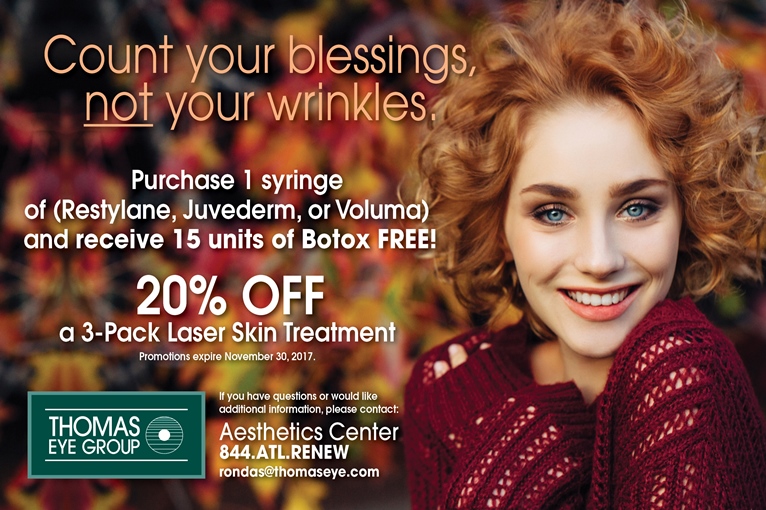 Whether you're looking for facial fillers that smooth and plump or are more concerned about eye or forehead wrinkles, don't miss the opportunity to save while getting great results that will take you through the holidays and into the New Year.
Cosmetic facial injections are an extremely popular way to look younger. They're quick, require little to no downtime, and they're effective enough to subtly impart a natural, more youthful appearance. Read on to learn more about the options available for minimally invasive facial rejuvenation.
Botox vs Facial Fillers
Both Botox and fillers (Restylane, Juvederm or Voluma) are effective for smoothing facial wrinkles, but they take different approaches. Botox is used to relax targeted facial muscles above, in between and around the eyes. These muscles cause creases after years of repeated facial expressions, leading to crow's feet, frown lines and forehead creases. Relaxing these muscles can smooth existing wrinkles and prevent them from becoming more pronounced.
In contrast, facial fillers target the loss of volume and skin firmness that occurs with age. These injections plump and restore the treated area, filling fine lines and wrinkles for a more youthful look. And for patients of any age, facial fillers can also successfully add volume to thin lips.
Schedule a consultation today to determine the best restorative plan for your skin. From our team to you and your families, we wish you a Happy Thanksgiving!