Back to school is here and with summer coming to a close, now is the perfect time to treat yourself to a few anti-aging solutions. Our Aesthetics team, led by Dr. Kenneth Neufeld, has you covered with big savings this month on Botox and laser skin care packages - receive 15 units of Botox free with the purchase of one syring of Juvederm, Voluma or Restylane, plus 20 percent off three-pack Laser Treatments.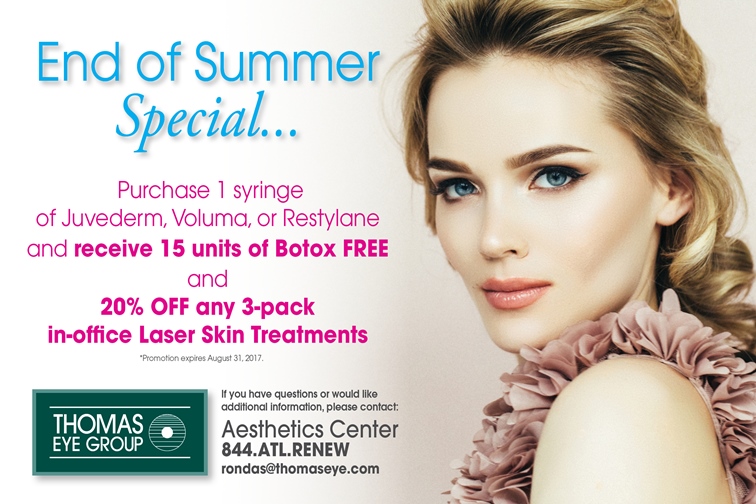 A treatment plan now means youthful, glowing skin as you approach autumn, but is summer a safe time to undergo laser? This is a question we're often asked, and the answer is yes!
Some patients worry about the abundance of summer sunlight damaging the skin. While it's true that post-laser skin is more sensitive and prone to sun damage that could lead to damaged cells and production of more melanin, taking a few simple precautions can protect your skin and your investment.
Consider this:
• Sunscreens worn after laser treatments block much of the ultraviolet light so that sun damage and excessive melanin production are avoided. We strongly urge all of our patients to apply sunscreen liberally, not only post-laser, but daily, year-round to protect the skin and ensure that the benefits of anti-aging treatments last.
• Rather than "painting" the entire skin surface, many of our lasers treat points of the skin, perhaps 25 percent of the total surface area. For that reason only 25 percent of the skin at any one time has been denuded of its outer protective layer, reducing the potential for sun damage.
The bottom line:
As long as you are careful to wear sunscreen and to avoid a great deal of sun exposure, summer is a great time for laser treatments. Call us today at 844.ATL.RENEW to schedule an appointment so you can put your best face forward this fall!