Summer is the season to sizzle in the south and our aesthetics team has just the thing to help you glow. Whether suffering from the stress of work, travel or a busy social calendar, you don't want your complexion to give you away.

Instead, rejuvenate your skin and remedy sun exposure from summers past by taking advantage of this month's promotion. To help our patients look their best this season, we're offering a smooth skin event throughout June: Purchase three laser skin treatments and receive 20 units of Botox free!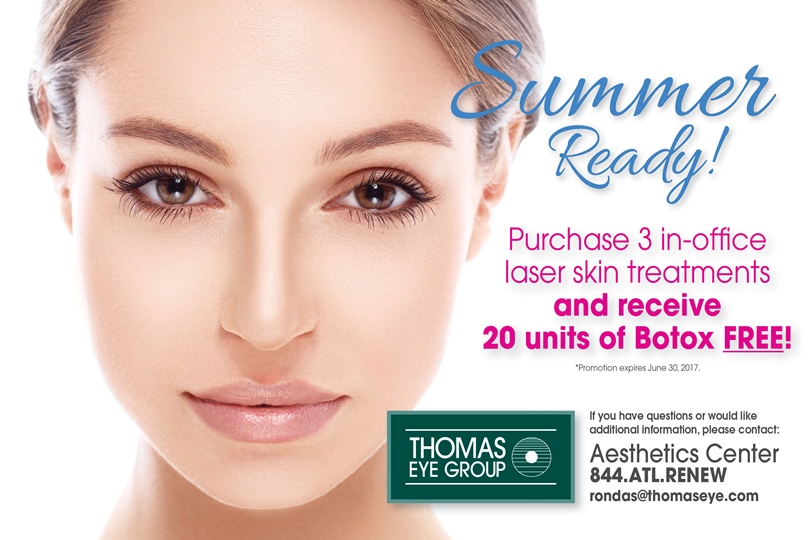 We're in the business of helping our patients be happier with the look and feel of their skin. Sometimes that means smoothing and preventing wrinkles and brightening the tone. Facial aesthetics is our area of expertise and sometimes it's the small changes that work wonders in elevating self-esteem while pursuing a busy lifestyle.
Botox is a great option to soften the lines between eyebrows to make eyes noticeable more beautiful. In the lower face, it can help turn up the corners of the mouth to ease a tense look and prevent persistent frown lines. Within days, our patients notice improvement that lasts up to four months. In seven to 14 days, you may even look like you've spent a week at a spa! In addition, we offer Sciton Laser treatments including BroadBand,™ MicroLaserPeel,™ NanoLaserPeel,™ and hair removal.
Whether looking for a fresher summer look or a quick touch up to give you that extra glow, we can customize options to give you your best looking summer skin. Request a consultation with Dr. Neufeld today to get started on a plan to help you sizzle this summer.