Summer is often a time for relaxation, travel, and other fun activities. Imagine if you could enjoy all the fun that summer has to offer without the hassle of contacts or glasses. Here are 5 reasons that summer is the perfect time for LASIK.
1. Vacation with Less Worry. Let's face it. Traveling with contacts and glasses can be a burden. You have to remember your case, contact solution, extra contacts for emergencies, and the list goes on and on. LASIK saves time and worry so you can enjoy your vacation without corrective lenses.
2. Save Money. Our patients are surprised to realize that the cost of LASIK is often cheaper than life with contacts. The cost of new prescriptions, lenses, solutions, and backup glasses really add up over time. And speaking of saving money on LASIK, our LASIK team is offering 40% OFF LASIK right now for a limited time on our premier package.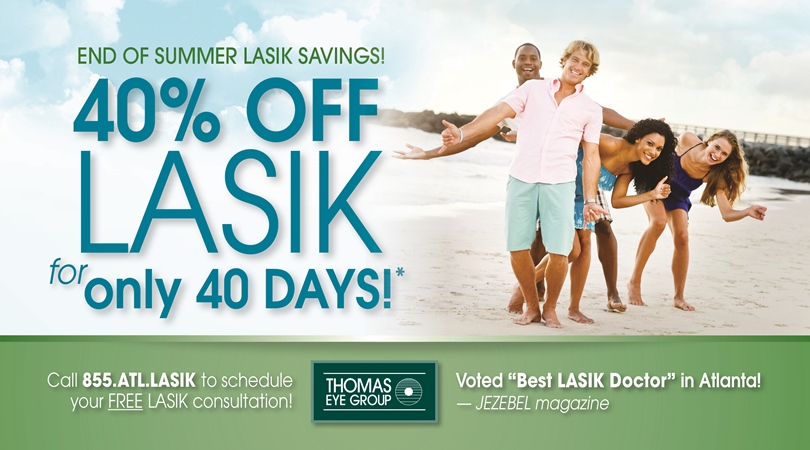 3. Freedom. Imagine going to bed without having to take out your contacts or waking up in the morning without fumbling for your glasses. LASIK can provide you some extra freedom that you'll appreciate and enjoy for years to come.
4. See and Feel Better. Many of our patients report a more improved vision after LASIK than with their contacts. And for glasses wearers, LASIK can often provide patients with a higher self-esteem, confidence, and an overall improved quality of life.
5. Sports and Outdoors. Glasses are difficult to wear in most active sports, and contacts can even be hazardous or restrictive when it comes to water sports. Splash, swim, canoe, dive, and ski with complete freedom after LASIK.
Are you ready for LASIK?
Click HERE to take our LASIK Self-Evaluation test or call 855.ATL.LASIK to schedule your FREE LASIK consultation today.
* Valid on LASIK procedures performed between July 23 - August 31, 2017. Valid on premier plan only. Cannot be combined with insurance or any other promotion.