You love your children and are proud to be their mom. But if your little ones, or big ones, have given you a few "worry lines," you deserve to treat yourself this Mother's Day. Our aesthetics team is offering a month-long rejuvenation event that promises to eliminate or soften wrinkles, plump and contour the face and grow and define lashes for a more youthful you.
This month take advantage of big savings by purchasing three of our most popular and effective anti-aging products. The offer: One syringe of Juvederm or Restylane, minimum purchase of 15 units of Botox and one box Latisse – all for just $900 (a $1,200 value). In addition, when you purchase a three-pack in-office laser skin treatment, you'll receive a Nano Peel for free.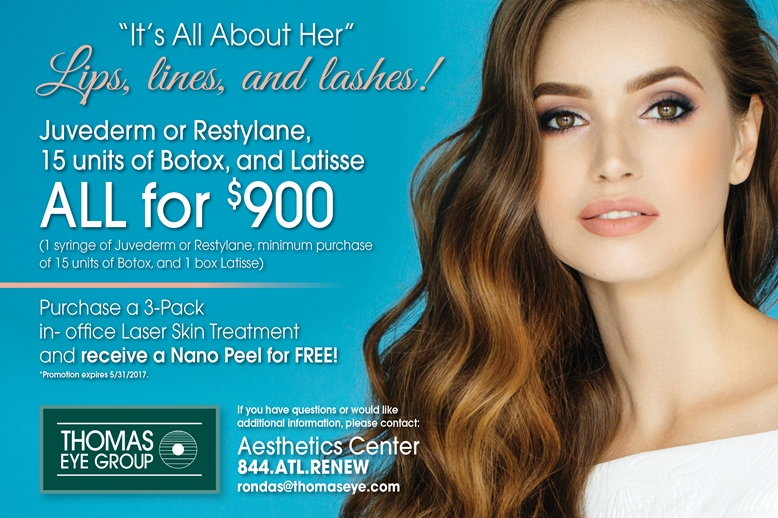 Am I Ready for Professional Anti-aging Treatments?
What's the right age to start more aggressive anti-aging treatments? We have patients that are relatively young and others that are much more mature. If you're starting to see crow's feet, lines between the brows, and forehead creases, you may be ready to start Botox. If you're seeing depressed or sunken areas around the eyes, cheeks or chin, a cosmetic filler can plump the area, taking years off your face.
Will I See Results by Mother's Day?
Look radiant and beautiful this Mother's Day with a little help from cosmetic injectibles. Come in for treatment in early May and you'll see your full results by Mother's Day. Generally, it takes 3-7 days for Botox results to appear after treatment, but filler results are immediate. Latisse produces fuller lashes within a few weeks, but maximum results (fuller, longer, darker lashes) take up to 16 weeks.
What's Recovery Like?
Life is busy, but never too busy to look your best self. Your in-office cosmetic treatment takes only a few minutes. After treatment, you can resume your regular activities immediately. Recovery symptoms are usually minimal and downtime is not needed. Typically, the only recovery from injectibles is related to the needle going into the skin. You may have some mild bruising or redness, but these symptoms can be minimized by avoiding blood-thinning medications like aspirin or ibuprofen around the time of treatment.
Give yourself the gift you really want this Mother's Day by taking steps to look and feel your best. After years of taking care of family, career and community, it's time to take care of you. Call today to schedule your consultation and treatment with Dr. Neufeld and his highly qualified team and have a Happy Mother's Day!