The sun is shining and the air is warming… it certainly feels like Spring. At Thomas Eye Group, our aesthetics team is offering a great early Spring special on Botox and Juvederm to give you your most gorgeous complexion. Our office is renowned for excellence and consistency with cosmetic facial injections – all performed by Dr. Kenneth Neufeld, a Board Certified ophthalmologist and oculoplastic surgeon with specialized training in cosmetic procedures.
So what is Botox exactly? It's actually a purified protein called botulinum toxin (or botulinum) type A, derived from a bacterium. Botox temporarily relaxes muscle areas by blocking nerve impulses that trigger contractions resulting in a softening of facial wrinkles. The treatment lasts for three to six months. Many of our patients often pair Botox treatments with Juvederm, a hyaluronic acid containing injection that adds youthful volume where aging has taken a toll.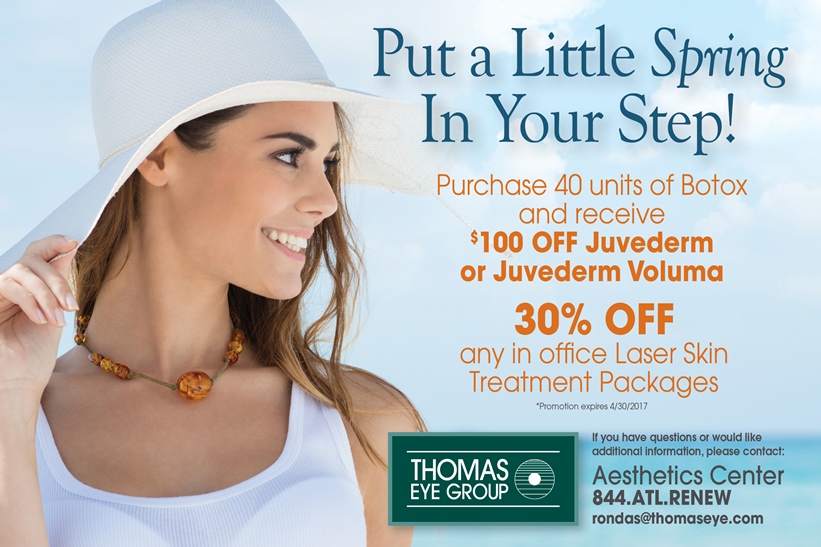 Are Injections Right for You?
People often fear the side effects of any procedure and many have misconceptions about cosmetic treatments. Read on to learn the truth about these popular cosmetic treatments.
What if I stop Botox or Juvederm?
You try Botox or Juvederm, and then decide to stop. What will happen? If you stop, your face returns to its pre-injection state, but often with subtle improvements. Since your facial muscles have been limited, wrinkles often appear softer even after Botox has lost effect and Juvederm often promotes your own collegen growth, leaving the skin plumper than before. The only reason to continue is simply because you like the results and feel better about yourself after treatments.
Will I lose my natural facial expressions?
You may have seen celebrities with frozen expressions and thought, "You can see that she/he has received cosmetic injections." In fact, it is probably more than Botox and Juvederm in these cases, such as several cosmetic surgeries. What is important for Botox and fillers is dosage. Dr. Neufeld works with patients to achieve the most natural outcomes so your friends and family will only know if you choose to tell them.
Is it affordable?
Cosmetic injections are an investment in you. Many patients report higher self-esteem and more career opportunities as a result of maintaining a youthful appearance. To help you budget, this month we're offering $100 off Juvederm and Juvederm Voluma when you purchase 40 units of Botox. In addition, receive 30 percent off of any in-office Laser Skin Treatment package.
Schedule an appointment today by calling 844.ATL.RENEW to discuss facial rejuvenation options with Dr. Neufeld and his talented team, and take advantage of our great spring savings!