This Valentine's Day, we want you to fall in love … deeply, madly in love with yourself. We're offering beauty-enhancing treatments to help you look and feel your best this month and in the months to come. Treat yourself this year and spread the love with our special promotion that promises a more youthful appearance at an affordable price.
Smile and pucker up! Fuller cheeks and lips with Juvederm Voluma
Voluma adds instant volume to correct age-related loss in the cheeks to create a lifted, contoured look. Get your smooch Valentine-ready with Juvéderm – a great choice for lip augmentation providing natural looking results that can last for months with just a single treatment. The procedure takes just a few minutes with no downtime needed.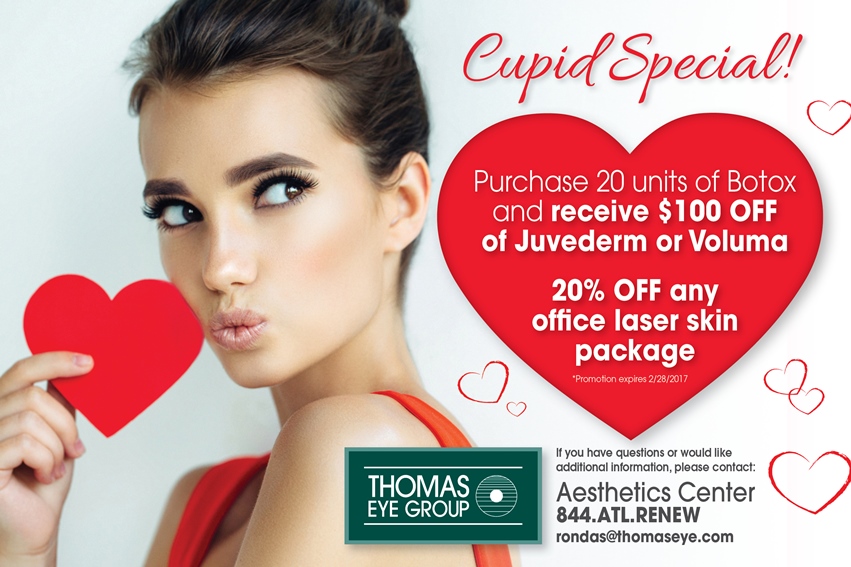 Two is better than one. Treat you and your man to Botox
In addition to adding volume to your face, consider diminishing lines with Botox, the most popular cosmetic procedure in the U.S. and one of our most requested services. Botox is no longer just for women. "Brotox" is a great option for men who desire to look younger in the workplace, so schedule an appointment for the man in your life when you schedule your own.

A sweet deal
This month only, we're offering $100 off of Juvederm or Voluma when you purchase 20 units of Botox, plus receive 20 percent off any office three-pack laser skin package. Laser packages include Sciton Forever Young BBL, MicroLaser Peel, NanoLaserPeel, BroadBand Light and Laser Hair Removal.

Cupid's Special expires February 28, 2017 so schedule your appointments today. Be sure to check out Dr. Neufeld's patient "before and after" images from Atlanta & Company on our website. Happy Valentine's Day from our aesthetics team!